UFL-M150 ZM80 Underwater Micro Fisheye Lens
JAN code : 4562121436213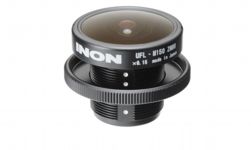 An optional adapter is required.
---
(*1) M27-XD Mount Converter for UFL-M150 ZM80 (for XD Mount)
(*2) M27-M67 Mount Converter for UFL-M150 ZM80 (for M67 Mount)
(*3) M27-AD Mount Converter for UFL-M150 ZM80 (for 28AD Mount)
(*4) M27-LD Mount Converter for UFL-M150 ZM80 (for 28LD Mount)
Compact fisheye lens to shoot through eyes of small marine life, so-called "insect-eye lens" imaging. The lens is designed to use at approx. 80mm zoom position (35mm film equivalent) not as like standard wide conversion lens.(*5)

(*5) This lens is designed for underwater use only. Using on land will not form an image.

Underwater view angle is 150°. The subject side lens is compact diameter 32.9mm and minimum focal length is 0cm to capture a tiny subject in entire image together with background.

The UFL-M150 ZM80 is an afocal system conversion lens which does not affect brightness of combined master lens and enables you to use benefit of camera's AF (auto focus).

You can take full advantage of INON "S-TTL" Auto exposure of INON Z-330, D-200, S-2000 to benefit appropriate exposure images simply by pressing shutter release button.

The lens barrel has threaded wall to adjust lens position back and forth to accommodate with different master lenses among many compact digital cameras (*6).

(*6) Not usable for a compact digital camera carrying large master lens or super zoom function, or an interchangeable lens for a SLR camera system.

The UFL-M150 ZM80 is attached on compatible camera housing via combination of "Mount Base" which is exclusively designed for each housing and appropriate "Mount Converter".
Olympus TG-6/UFL-M150 ZM80
[When using UFL-M150 ZM80]
*The UFL-M150 ZM80 is a special conversion lens to capture a small subject in entire image when shooting at very close range to obtain so-called "insect eye lens imaging". Its optical design makes lens diameter relatively small and provides minimum aberrations when shooting a subject just in front of the lens. So if you shoot whole underwater landscape with focusing to infinity as like using ordinary fish-eye lens, it may not produce intended result.

*This product is designed for underwater use only. Not usable on land. Use a tank or bathtub filled with water when conducting test shot on land.

*When shooting, zoom towards to telephoto side at approximately focal length 80mm (35mm film equivalent) until no vignetting is observed. Shooting at wide end setting will give you a circular fisheye image (view angle 150 degrees).

*Since the lens has small diameter and enables to focus at 0cm from the lens surface, depth of field gets enormously shallow when shooting in few mm distance. In such a case, it is recommended to use small aperture setting.

*This product is not compatible with any of INON "Lens Holder" due to product feature to adjust mount position back and forth by screwing it.

*The built-in flash light could be blocked depending on housing, shooting distance or angle of view etc.

*Be well conscious of marine environment and marine lives not to stress and harm them when shooting with this product.