UCL-165 XD Close-up Lens
JAN/EAN code : 4570018120275

*Optional "XD Mount" is required.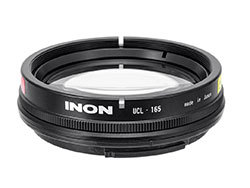 "XD Mount" for one-touch lens attachment and removal
The newly developed "XD Mount" enables one-touch lens attachment and removal. The "XD Mount" on a lens provides high durability, thin design without compromising lens optical performance and speedy lens attachment/removal in combination with XD Mount on housing side which has reasonable price and anti-slip lock function.


A high magnification close-up lens providing 165mm focal length (+6 diopter) where 165mm shooting distance from lens surface when camera's focus position is set to infinity. Using minimum focusing distance will shorten minimum focus distance allowing you to get closer to a subject enabling high magnification close-up photography.

Dual use underwater/land and usable with all zoom range. Even at same shooting distance, it is easy to capture a subject at desired size by adjusting zoom setting.
CANON RF100mm F2.8L MACRO IS USM
The lens construction is 2 elements in 2 groups with high quality optical glass with inner coating to suppress optical aberrations more effectively.

INON unique bayonet mount "XD Mount"