■Snoot Set for Z-330/D-200
JAN code: 4562121438996
The INON Snoot Set for Z-330/D-200 is an accessory for the INON Z-330, D-200 to change beam angle. The various combinations of packaged parts deliver 7 different beam coverage with the following sophisticated effects
●To block extra diffused light eliminating backscatter
●To highlight a subject by illuminating the subject only
●To give a spotlight effect on a subject etc.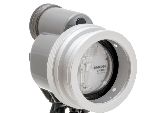 The Rubber Hood is securely attached on a compatible strobe via supplied dedicated aluminum sleeve which is screwed on the Strobe Light Shade mount screw on the strobe. The telescopic structure of the Rubber Hood helps to save space for storage.
Various combination for different beam coverage

Various combination of packaged parts provides 6 different beam coverage to suit to a subject and intended effect.
*Beam coverage is actual measured data by INON INC and could have variant depending on test condition.
*Always conduct test shots to familiar with the product characteristic before you take an important shot. When using the strobe in S-TTL Auto mode for spotlight effect of this product, spot metering mode on a camera is recommended since average metering mode or multi pattern metering mode could wash out the center of an image. In case S-TTL Auto mode does not provide appropriate exposure, use Manual mode.

*When you entry with this product being attached on a strobe, make sure to evacuate remaining air inside of the Rubber Hood before you get underwater.

*The Snoot Tube will reduce available intensity of the built-in Focus Light.

*Make sure to cool down the strobe according to instruction manual [Operational limitation on flashing/Focus Light] leaflet provided with the strobe, to prevent overheating / degradation of light emitting part / inner components. The light emitting part could have discoloration or burn when excessive repeated flashes are made. Should you observe any irregularity mentioned above, stop using the strobe immediately.

*Always extend the "Rubber Hood 72" when using the "Snoot Tube 10" or "Snoot Tube 26" together to prevent possible damage on light emitting part and/or inner circuit of the strobe etc. since generated heat could stay close to the light emitting part.