Lightweight and compact ultraprecise cast aluminum body
The X-2 for EOS50D/40D is W: 178mm x H: 158mm x D: 116mm (excluding finder unit and other protruded parts) made from corrosion resistance aluminum alloy by ultraprecise cast manufacturing technique to pursue size and weight reduction. The cast manufacturing technique enables thin body plate with complicated curved design which is not possible with machining.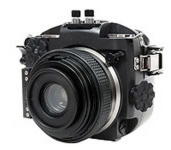 Stress-free control layout
Cast manufacturing allows flexible design where your right thumb seats on natural position when you hold something with your right hand and further enables you to access to control dials with holding the housing. Top right corner on the back panel is ergonomically designed for small hand user to hook right thumb to hold the housing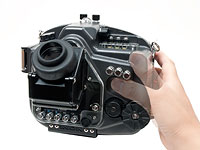 Fully compatible with S-TTL Auto strobe system
The X-2 for EOS50D/40D is equipped with flood-free quad optical connectors (4 x Optical D Connectors) supporting "S-TTL" auto strobe shooting with maximum four strobes where you can concentrate to enhance your creative intent and composition thanks to simple and accurate "S-TTL" auto exposure control where you simply press the shutter release button for accurate exposure control even for multiple strobe lighting. Optional Nikonos type sync connectors (X-sync only) further benefit you to use your existing lighting gear.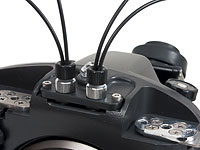 Interchangeable four viewfinders

INON offers four different finder units to serve every needs. You can remove/install a finder unit by yourself with supplied dedicated tool to support you to choose appropriate finder unit depending on subject/shooting condition.
Straight Viewfinder Unit

The Straight Viewfinder Unit extends eye-point without changing viewfinder image size (x1.0) and provides no vignetting even through a mask. The eye piece is parallel to camera's viewfinder which helps to extend working distance.
45°Viewfinder Unit

The 45°Viewfinder Unit extends eye-point without changing viewfinder image size (x1.0) and provides no vignetting even through a mask. The eye piece is tilted at 45°which is remarkably useful for low angled subject like a goby on sand area, and 360°rotatable to suit to low angle shooting with vertical composition.
Pick-up Finder 2 Unit

The Pick-up Finder 2 is a compact viewfinder practically extends eye point without vignetting even through a mask (x 0.75).
Finder Window Unit

The Finder Window is budget pricing "waterproof window" without extending eye point nor changing viewfinder image size. (Only center part of viewfinder image is visible)
Simulated viewfinder images
Wide variety of lens port to support from ultra macro to fish-eye imaging
All compatible lens ports are made from optical lens (multi-coated) ) including a Dome Port to exploit high quality image captured by EOS 50D/40D. With INON unique MRS Port system turning lens barrel by magnetic attraction where you can control focusing without mechanical stress as like to adjust focusing by focusing ring directly.