Beam angle is circular 110°
INON diffusers widen strobe beam angle circular 110°. A diffuser is must item for wide shot or to cover variation of strobe positioning even with standard lens. Another advantage of using a diffuser is to soften strobe light, which helps to deliver natural and even light especially for macro shooting. The -0.5 Diffuser drops strobe power only a half stop, so it is possible to use all time unless full flash amount is necessary.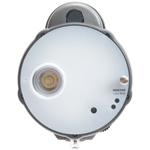 Two types of white diffusers for different flash power adjustment
You can select either diffuser for different flash power adjustment. Each one has -0.5 or -1.5 stop reduction effect. In S-TTL Auto mode operation with dual strobe configuration, shadow can be controlled by either attaching diffuser only one side or using different diffuser for each side.

Color temperature of white diffuser is 5400K same as sunlight
White diffusers adjust flash output and widen beam angle with minimal color temperature change. The color temperature of strobe beam through a white diffuser is 5400K which is only 100K less comparing strobe light without the white diffuser. INON white diffuser is designed to have same color temperature of sunlight.

*All INON Strobe designed to have color temperature of 5500K without a diffuser as same as sunlight to enhance natural color image.

Fly-eye filter effectively diffusing Focus Light
Red filter for wild life observation
INON Diffuser 2 comes with two filters. A hollow diffusing filter W40° Filter LE made from two laminated high transmittance optical grade acrylic fly-eye lens to extend Focus Light coverage up to 40° with less light attenuation. Another Red Filter LE changes light color to red not to stimulate light-sensitive subject for observation or macro shooting. The red filter also works to enhance accuracy of S-TTL Auto in super macro imaging by reducing influence of the Focus Light on camera's exposure control.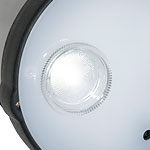 with W40°Filter LE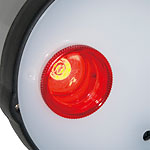 with Red Filte LE
Dissuer 2 (External Auto) supports all strobe modes
INON Z-240/D-2000 strobe is equipped with the External Auto mode where built-in Light Adjustment Sensor on strobe's front side meters subject reflectivity to control flash output. This flash mode is a kind of semi-automatic exposure control since there is no exposure data communication between a camera and strobe, so user needs to input camera's aperture value and ISO data in the strobe. Also the strobe has to be properly aimed to a subject so that the Light Adjustment Sensor facing to a subject. The External Auto mode is useful for shooting situation where TTL Auto mode does not work well or for intentional flash output control. This diffuser has dedicated window for the Light Adjustment Sensor.
*If you mainly use [S-TTL Auto
] and not using [External Auto] mode, then budget priced Diffuser 2 (TTL / Manual) would be recommended.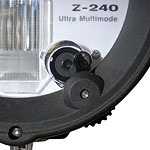 Light Adjustment Sensor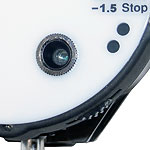 Dedicated window for Light Adjustment Sensor
Color Temperature Conversion Filters/Diffusers to warm strobe light
Color Temperature Conversion Filter (4900K) and -0.5(4900K) Diffuser drop strobe color temperature from 5500K to 4900K. Color Temperature Conversion Filter (4600K) and -0.5(4600K) Diffuser drop strobe color temperature from 5500K to 4600K. Warming strobe light is useful to capture diver's skin more healthy or accentuate warm color subject. Also converting RAW files at 4900K or 4600K can have richer blue water back ground with natural color subject illuminated by a strobe.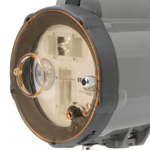 Blue diffusers prevent yellowish/reddish characteristic of digital camera
INON blue diffuser is designed to suppress particular color compensation characteristic to be yellowish/reddish by mainly Canon digital cameras when firing the built-in flash. Using this blue diffuser supports to capture a subject in natural color.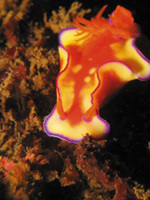 Not using a blue diffuser captured white part of the nudibranch reddish making dull result. Camera : Canon IXY400
Using a blue diffuser captured the nudibranch in natural color making clear result. Camera : Canon IXY400
W50°Filter LE
JAN code : 4562121435100

This filter effectively increases Focus Light coverage to about 50° with even brightness which is ideal to light close range.
Color Filter LE Set
JAN code : 4562121435117

A set of five color filters adjusting color tone of LED flashlight to accommodate to camera's characteristic, shooting condition and personal preference. The Pink Filter LE and Orange Filter LE are to change color tone for still and movie imaging underwater. Another version of these filters are to increase beam angle; W50° Pink Filter LE and W50° Orange Filter LE. The set further includes W50° Red Filter LE which is designed not to stimulate marine lives.