UCL-G165 SD Underwater Wide Close-up Lens
JAN code: 4562121437722
The INON "UCL-G165 SD" underwater wide close-up lens enables you to shoot a subject from close range of the lens to capture the subject larger in a frame.

Compatible camera
OLYMPUS STYLUS TG-Tracker
SONY FDR-X3000/X3000R
SONY HDR-AS300/AS300R
GoPro® HERO10 Black
GoPro® HERO9 Black
GoPro® HERO8 Black
GoPro® HERO7 Black
GoPro® HERO6 Black
GoPro® HERO5 Black
GoPro® HERO+LCD
GoPro® HERO+
GoPro® HERO
GoPro® HERO4
GoPro® HERO3+
GoPro® HERO3
Get Closer Minimum Focus Distance

An action camera is a deep focus camera which does not require focusing but prevents a subject gets in focus in close range (within 60cm/2ft range in theory for GoPro® camera) thus not usable for underwater macro shooting. Using standard macro lens for a compact digital camera would not help the situation as it would create vignetting and very shallow depth of field preventing comfortable focusing. The UCL-G165 SD lens is so-called "wide close-up lens" specifically designed for action cameras based on their optical characteristic. The depth of field (DoF) underwater will be 5cm/2.0in to 35cm/1.1ft when using the lens for GoPro® HERO10 Black supporting closer minimum focus distance underwater to capture wow photos/clips.
* The depth of field (DoF) on land is theoretical value based on focal length/aperture of camera lens and pixel pitch of the image sensor. DoF underwater is measured from "the forefront of the lens".
Ideal Angle of View for Macro Shooting

Maximum angle of view of GoPro® HERO10 Black Black is approx. 151° on land which will narrow down to approx. 94° when the camera is housed in genuine dive housing and submerged due to different refraction index. The INON UCL-G165 SD slightly increases angle of view underwater to 110° to capture dynamic scene played by a subject as the lens frames subject larger than UFL-G140 SD which delivers ultra wide 140°.
※Measured angle of view by INON on land or calculated angle of view underwater based on the measured angle of view on land. Not confirmed by camera manufacture. The measured angle of view of "HERO3+ Silver Edition" is approx. 142°(air) which is less wide than the "Black Edition". So angle of view underwater with this lens is less than 110°. The "HERO3+ White Edition" has not been tested.
Professional-level Image Quality

Optics is constructed of 2 elements in 2 groups. All elements are made from high refractive index glass lens to minimize whole size dramatically without sacrificing performance. Both lens elements have anti-reflection coating on all surfaces to elicit combined master lens performance with less ghost/flare.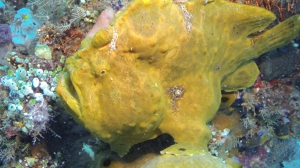 *Note that a lens adapter other than INON SD Front Mask may degrade image quality significantly as such adapter is not optimized for use with INON lens. Using such an adapter is not recommended and may void product warranty.
Speedy Lens Exchange by SD Mount

Bayonet INON SD Mount compatible to support friendly and speedy lens exchange underwater. Compatible with AD Lens Holder to hold a lens when not in use.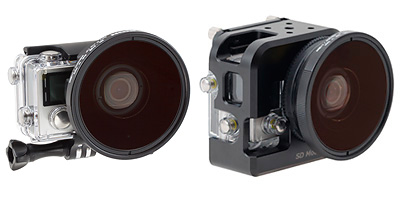 Size
77mm / 3.0in (Diameter), 25.2mm / 1.0in (Length)
Weight
[air] 200g / 7.1oz
[underwater] approx. 121g / 4.3oz
Mount system
INON SD Mount
Depth rating
60m / 196.9ft
Body material/finishing
Corrosion-resistant aluminum alloy / rigid black alumite, PC etc.
Lens material/coating
Optical glass / both side coating
Lens construction
2 groups 2 elements
Max. view angle (*1)
165mm (underwater)
(*1) Standalone focal length of UCL-G165 SD and not combined focal length with camera's master lens.
Mfr.
Camera
Depth of field with UCL-G165 SD (*2)
GoPro (*3)
HERO10 Black
HERO9 Black
HERO8 Black
HERO7 Black
HERO6 Black
HERO5 Black
HERO4
HERO3+ Black
HERO
HERO+
HERO+ LCD
5cm / 2.0in to 35cm / 1.1ft
HERO3 BLACK
7cm / 2.8in to ∞
OLYMPUS
TG-Tracker
2cm / 0.8in to 15cm / 5.9in
SONY
FDR-X3000
HDR-AS300
5cm / 2.0in to 35cm / 1.1ft
(*2) Measured DoF from foreground of the lens surface. Divide by 1.33 for visual distance underwater.。
(*3) Measured distance underwater for GoPro® HERO10 Black/HERO9 Black/HERO8 Black/HERO7 Black/HERO6 Black/HERO5 Black/HERO4/HERO3+ Black/HERO3 Black/HERO/HERO+/HERO+ LCD. Other Edition has not been tested.
[When using the UCL-G165 SD]
* The UCL-G165 SD is designed only for underwater use. Using the lens on land will have vignetting.

[When using for GoPro®]
* Always set camera's Field of View (FOV) to [WIDE]/[Ultra Wide]. Using [Medium] or [Narrow] won't bring optimal performance of this lens.
* Not usable for [SuperView™] as this mode adds software-based deformation effect resulting from processing original 4:3 aspect ratio to 16:9 enhancing more aberrations when using an attachment lens. It would not recommendable to use [SuperView™] when using the UCL-G165 SD lens.
* Since this lens provides ultra wide angle of view, it is recommended to set Spot Meter to [ON] when using external lighting source (LED flashlight etc.). Setting Spot Meter to [OFF] may have washout if the external lighting device aims center of the frame.

[When using for TG-Tracker]
* Activate image stabilization function of the camera while shooting video to avoid vignetting. When taking still images, do not use attachment lens to avoid significant vignetting on image corners.
* Since the camera is designed to offer optimal focusing performance for close range subject, usable range of DoF (depth of field) with this lens is "2cm/0.8in to 15cm/5.9in" and distant subject beyond this range gets blur.

[When using for FDR-X3000/HDR-AS300]
* Select SteadyShot (Movie) [Act] when shooting video as [Std] and [OFF] cause slight vignetting. Select SteadyShot (Still) [ON] when shooting still image. Excessive camera movement may result vignetting even SteadyShot (Movie) [Act] is selected.
* Always set camera's angle setting to [W:Wide]. Using [M:Medium] or [N:Narrow] won't bring optimal performance of this lens.
*GOPRO, HERO, the GOPRO logo, and the GoPro Be a Hero logo are trademarks or registered trademarks of GoPro, Inc.
*Olympus, STYLUS and TG-Tracker are trademarks or registered trademarks of Olympus Imaging Corp.
*Sony and Action Cam are trademarks or registered trademarks of Sony Corporation and Sony Marketing Inc.