MRS GX Standard Port
---

INON INC. is pleased to announce official release of MRS (Magnetic Rotary System) compatible port for Panasonic LUMIX G VARIO 14-42mm / F3.5-5.6 II ASPH. / MEGA O.I.S., MRS GX Standard Port on on January 29, 2020.
*Consists of GX Magnet Ring and MRS Magnet Ring Adapter GX14-42.
Features
・Supports Panasonic

LUMIX G VARIO 14-42mm

/

F3.5-5.6 II ASPH.

/

MEGA O.I.S.

enabling to zoom in/out by INON unique MRS system offering smooth and intuitive zoom operation by magnet attraction.
・As the lens focus ring turns same amount when turning the MRS Control Ring, operation feeling is much more like zooming camera lens directly on land. Since the MRS Control Ring is held and operated by the left hand, it can contribute not to have too much load on your right hand.
・The lens mount of the port edge is interchangeable depending on wet lens to use either M67 screw mount

GX Lens Adapter 2 M67

or LD lockable LD bayonet mount

GX Lens Adapter 2 LD

.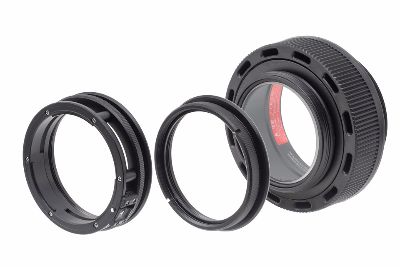 ---
(*1) When using on land at zoom wide end, vignetting will be observed on image corners. Crop an image during post processing or zoom in until no vignetting is observed.
January 27th, 2020
INON INC.

*Press release information is as of January 27th, 2020 and subject to change without prior notice.